If you're building holiday affiliate sites or you do (or would like to do) affiliate marketing, feel free to follow along.
A lot of times when you're starting out online, it takes time to walk thru the different types of marketing avenues available to find the ones you like and that work for your personality, skills and goals.
Then, even when you have most of it figured out, you're still updating your business plans throughout the year to see if you're on track and headed where you want to go.
Well, for the past week or so, I've been continuing to read, study, and in general, figure out the game plan for business for the rest of the year. It's a lot to digest and put on my plate, but I feel like it's coming together nicely.
One of the things I've learned during this year is to keep everything as simple as possible so that I can stay focused and get more done. So during my planning, my bottom line has been to integrate as much as I can into a plan that I can follow thru with daily.
Outsourcing
For those of you who have followed me for a while, you know I started outsourcing last year. And for what I was doing with it, it was a great idea… but it presented its own set of time-pressure issues. Mainly… my finding time to stay on top of what I was working on myself while (attempting) to get and stay ahead of the guys I was outsourcing to.
When Squidoo was my main focus, it worked fairly well. I'd do the research, set up the domain names, flip them to my VAs, have them build the technical structure and then they'd flip them back to me so I could add all my personality and content before publishing.
Well it seems that Squidoo and I couldn't reach an agreement on the fact that the content on my published lenses was indeed, ALL mine… so I left them.
Side Note: The fact that they started taking money from me that my lenses had already earned, on the basis that their electronic system felt the urge to lock my best earners down, along with the fact they took away my ability to get 30 or so lenses flipped back my way from my VAs because they chose to suddenly shut down their "Transfer" option, were 2 very large factors in that decision as well. Regardless, I'm no longer using Squidoo.
Product Creation
I know many of you are participating (even if it's from the sidelines in the cheer section) in Tiffany's Product Creation Challenge along with me. When it started, I had already made the decision to leave Squidoo, so it was a great time to put together (finish) my own products.
I'd been working on two… My Niche Research Packs and my Mindless Mapping Method.
Since these were the very first Info Products that I'd done, I had no idea what, if anything, to outsource, so I just worked on them myself. Along the way, as I'm sure many of you are learning with me… it's a lot of work and there are many more steps than you initially think when someone says "Hey, why don't you create your own products!"
It's great from the standpoint of building credibility and it's nice that the income you earn is yours… yet there's much more involved than just those two things.
I spent a few months wrapped up in creating outlines, setting up my Affiliate program, setting up DLGuard (shopping cart), creating sales pages (and stressing over whether they were any good or not), deciding on opt-in pages, and all the fun technical stuff that comes along with creating your own products.
I had no idea…
Did I finish? Yes.
Did I enjoy it? For the most part.
Will I do it again? I'm sure I will… just not right this second.
Lessons Learned
I did figure out a few things while creating my own products and getting them ready to market…
I (still) get bored very easily…
In fact, I'm still working on the Power Point slides for my Mindless Mapping product that should have been done weeks ago.
And since the "dog issue" has calmed down for the most part, there's really no reason to not have them done… I just got bored with it and I've created a mental block that had me staring at the screen off and on for several days "trying" to get the process done.
I finally accepted that I'm not going to create tons of new stuff around a product that is designed to get people MORE productive… it does what it's supposed to do so why add "frills"?

So my suggestion to other people creating their own products is to make sure it relates to something you're passionate about or at least don't mind expanding on for a while.
Creating a product involves more than just creating a product.
It's also about creating affiliate tools and sales pages and opt-lists and follow-up emails and… and… a LOT of things in addition to just the product! In other words… it's a LOT of work!
Don't get me wrong. I have NO issues in working hard or putting in the hours it takes. I just think there's a better way to go about it for the long term that won't leave me working 80 hours a week on a single product that I then get to go work another 80 hours with in order to market it.
I'd much rather put in those hours working on a Membership Site that I can continually grow and add more useful content to than just a single product.
Affiliate marketing is a must!
Whether you're selling your own products and have affiliates marketing with you as well, or you decide to market someone else's product(s)… definitely look into what affiliate marketing is all about.
From the standpoint of my own products, it definitely helps to make more sales, especially when you have fewer people on your list than some of your affiliates may have. It gives your product (and you) more visibility and you gain more followers as well.
From the standpoint of marketing for others, I recently did my first "official" marketing for a product launch (it's a bit different than doing product reviews on my blog for products I use and like).
For the launch, I sent out a note to my list and others that I know who have been wanting to build holiday sites but who haven't yet. I let them know about Britt Malka's Casual Holiday Blogging product that she released a couple weeks ago. It was fun, and I made money.
And you know what? I didn't have to put in 80 hours to create all the marketing materials or the product layout or the sales page or anything else.
It took me the time to go thru the product, jot down what I liked best about it, type it (via Dragon Naturally Speaking) into an email so that people would have my personal opinion about it, and then copy and paste the part of Britt's sales page that I thought really explained what the product offered… then I hit Send.
I scheduled a second note to go out the next morning. (It was supposed to get to people AFTER the product went live but it got there a few minutes too soon so I did learn a few things from that as well).
But, compared to creating my own products, it took very little time and effort.
Why Not Market Other People's Products?
My initial thought was "Why haven't I done this more regularly?" And I know why.
There are a couple of mental blocks I've had to overcome in the whole "should I do affiliate marketing" debate.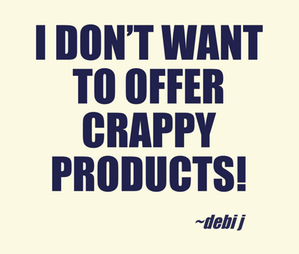 The first is… I don't want to offer crappy products.
And yes, logically, I know I have a choice. But emotionally, I've run across (and paid for) so many crappy products that were promising that they were awesome stuff, that I hit the second mental block, which is "no one will create a product the way I can".  And yet again, logically, I spend time online with quite a few marketers who create kick-ass stuff that I'd have NO problem recommending to friends, family or strangers.
So no, I don't have to be the one who creates every product!
The Game Plan
That brings me to the reason I'm putting this post together to begin with (nothing like the long way to get there right?).
I've already been documenting what I'm doing with Pinterest because I want to see exactly what the numbers are from some of the things I've been testing.
I've met some really great Pinterest people who make the majority (if not all) of their incomes from using Pinterest… either to drive sales directly or by driving traffic to their primary businesses.
So I've been planning out a Case Study that involves Affiliate marketing & Pinterest. It's gonna include the use of other types of social media as well (mainly Twitter & Google+), but the goal is to continue to see how I can use Pinterest to drive traffic and sales.
Using other people's products (Affiliate Marketing) will allow me to focus on the traffic and numbers rather than the creation and marketing plan.
As far as the affiliate products themselves, I'll be using information products and tools that I already use in building & running my business, along with Amazon and other affiliate networks that I'll be using to build my holiday sites (for now, those will be geared primarily towards Halloween & Christmas).
I'm still putting together all the details on what sites to set up, whether to use one Pinterest account or several, and which information to incorporate where, so I'll get back to you on another post about that… probably next week.
I'm also using Britt's Casual Holiday Blogging to initially set my holiday site up, along with the information I'm learning from Erica Stone's own case study on building an Amazon Review site. She's covering step-by-step details over at the Online Business Insiders (OBI) forum that I belong to.
I'm not sure how much of that I'm using for this yet, simply because I'm not setting up (or at least I haven't planned to yet) a tighter niche holiday site that includes a lot of reviews. My goal is to initially do a more general holiday shopping site with keyword elements that will bring traffic from a few places.
Again, I'm still working out the details so that may change as well. 🙂
Other Projects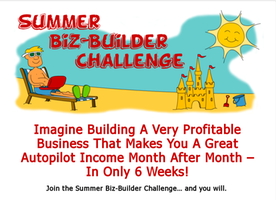 While I'm putting all this together, I'm also working on a Summer Biz Builder Challenge with Kevin Riley. I didn't start it at the beginning of the summer so I'm running behind most of his challenge participants, but that's just giving me a bit of "at my own pace" room since he has the lessons up to this point already in the forum.
The bottom line from the challenge is to have a fully functioning tutorial membership site set up at the end of six weeks (I'm on week one).
Whether or not what I'm doing with this affiliate case study becomes a part of that or not, only time will tell. I'm still working thru the discovery part of his challenge to determine what direction to go based on my strengths, passions, and abilities.

I'm also revamping this blog site as time allows. I started feeling really cluttered so it's time to get it a bit more organized. I'm still not sure I like the Header but it's at least different. It's tough for me to find someone who can get the idea from my head into graphics form (and I'm not good enough with graphics to do it myself so…).
I may also change themes. I've been using Pagelines' Platform since I started but it's the free version. I'm having some issues and I'm not sure whether they're coming from an unsupported free version or something else. I'm gonna have to check into that and decide what I want to do. There are a couple other drag and drop themes I really like so we'll see.
I know Pagelines has also introduced a drag and drop, but so far the reviews I've seen show that I may find a couple others that may be easier to learn (and simple is always good when it comes to me and themes!).
I'm also going to driving for a week at a time here and there (yes, back to the big rig).
I've got a friend who owns his own truck and he's been having some health issues. So he asked if I could drive once a month or so in order for him to see his doctors and get his health back on track. It's a win-win because he can get healthier and I can make some quick cash to pay off medical stuff (funny how I still don't have health insurance in spite of Obama's big plans… different rant for another day).
Your Turn:

Do you have your plans mapped out for the holidays yet? Do you do affiliate marketing already? Have you created your own products (I know many of you are participating in THAT challenge with me right now too)? Do you have a preference?
Subscribe to my list so you won't miss out on any of my subscriber-only specials! And be sure to include your links in the comments below. I use CommentLuv to link to your blog so you can build automatic backlinks that Google will love!  
If you enjoyed this article, please consider sharing it!