Casual Holiday Blogging – Get Your Holiday Sites Set Up Right!
Holiday bloggers know that it's already time to get their websites and blogs in order for the Halloween and Christmas holiday shoppers. People start shopping for Halloween costumes and decorations in August and Christmas lights, decorations and presents in September.
But what if you want to cash in on some of those holiday earnings without committing a ton of time away from your primary business?
Well thankfully, a friend of mine who's been successfully earning money from holiday niche sites for a while now, decided to put together an eBook called Casual Holiday Blogging to show the rest of us what she's been doing that works!
I read through this last night and have learned at LEAST 10 new things… things that will let me build faster with the right information, get more traffic and create passive income… all without taking more than a few hours away from building my primary business.
And it will grow year after year… gotta love THAT!!
FYI:  The launch doesn't officially happen until 8/1/2013 at 11am EST so the links won't take you to the right place until then.
Now, since I'm no expert at product launches, I'm gonna let Britt's handiwork explain what this product is all about. It's on a dime sale  and it's worth a lot more than what she's selling it for so….
If you build holiday sites or you'd like to add some additional income to your portfolio without a ton of work… You definitely want to get your hands on this!!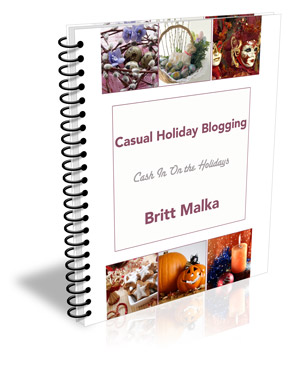 This book is the answer to your prayers. You can stay laz… casual, and still make money.
It's a PDF blueprint consisting of 55 easy to read and follow pages.
At the end of each chapter, you get "Action Steps", so you'll know exactly what to do and in what order.
You'll not be able to find an excuse to procrastinate  Sorry about that.
When you follow my step-by-step guide, you'll be ready to see the cash flow in by the beginning of the festival you choose. Oh, and you'll discover which festivals are worth going for and which aren't.
What More Do I Need to Buy?
You'll need:
A domain.
Web hosting.
Auto-responder (of course you can do without, but you'll miss out on a lot of profit.)
How about This?
Can you see yourself working one hour per day for a month and cashing in big time?
Can you imagine feeling good instead of guilty for not having written for a week or two… or three?
Do you think you can find the time once a year to build your future?
Does the thought of writing about snow and ice when the temperature is 87F/31C outside make you giggle?
And no, this is not limited to Christmas… There are plenty of profitable festivals.
Who Needs This?
If you like to blog, but you're struggling to stay consistent, then you'll love this product.
If you haven't started your first blog yet, because you didn't know what topic to choose, this product is for you.
If you're already a blogger, and you want a little extra that doesn't take too much time, then you should get this book.
If you already have a festivity blog, but want more inspiration about how to add content or how to monetizeit, then you ought to read this book.
Oooh, I almost forgot! Britt has a really interesting bonus for you. She's offering a free Q and A hangout as a bonus. You get the time to read the book and start implementing, and then get to ask Britt questions about the content. She'll also show you her Danish money-maker, and she says you'll laugh when you see it (I haven't seen it either). 
The hangout will be August 13th at 11am EST, so grab this product now to get access, while she's doing this live. (If you're too late, you get access to the recordings.)
Grab this now for the lowest price possible… Casual Holiday Blogging
Your Turn: Do you already have holiday niche sites? Are they earning income for you? Do you update them or are they fairly passive?
Subscribe to my list so you won't miss out on any of my subscriber-only specials! And be sure to include your links in the comments below. I use CommentLuv to link to your blog so you can build automatic backlinks that Google will love!  
If you enjoyed this article, please consider sharing it!